Shri Swami Samarath Maharaj
Akkalkot Niwasi Shri Swami Samartha also known as Swami Samartha Maharaj, Swami Maharaj is a household name in Maharashtra, Karnataka and Andhra Pradesh.

Swami Samartha of Akkalkot is considered by many to be the very form of Sri Nrusimha Saraswati of Ganagapur. Occasionally, Swamy said that he was Nrusimha Bhan and that he was from kardalivan near Srisailam confirmed that he was Nrusimha Saraswati. Swamy took up numerous names at different places which made it hard to trace his travels. He died in 1878.

As per "Shripad Shrivallabha Charitra" Guru Dattatreya took 3 Avatars: Shripad Shri Vallabha, Narasimha Saraswati and Akkalkot Swami Samarth Maharaj.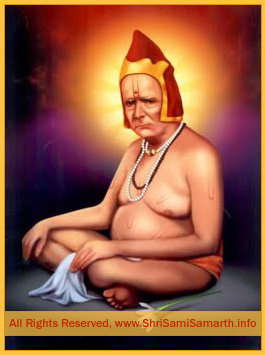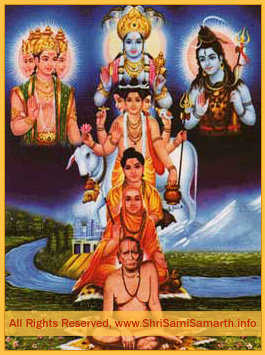 Shri Swami Samartha is believed to be the incarnation of Shri Narasimha Saraswati, who in turn is the believed incarnation of Shri Shripad Shrivallabha. Although not much is known about Shri Shripad Shrivallabha, the life story of Shri Narasimha Saraswati is well documented. "Shripad Shrivallabh Charitramrut" (the book describing the life story of Shri Shripad Shrivallabh) has been recently publicised.

Shri Narasimha Saraswati, about four centuries before the advent of Swami Samarth is believed to be the earlier incarnation of Shri Dattatreya. The 'Guru Charitra' one of the most famous books gives lot of information about Him. As per the most popular belief, Shri Narasimha Swami, after helping and spiritually uplifting a large number of people over a few decades, went away to the Kardali vana for penance and went into Samadhi. In the Samadhi state He remained for about three hundred years. With the passage of time a huge anthill grew over him and he was lost to the outside world. One day accidentally a woodcutter's axe fell on the bushes grown around the ant hill. He was shocked to find blood stains on the blade of the axe. He cleared the anthill and Lo, he found a Yogi in meditation. The Yogi slowly opened his eyes and consoled the dumbfounded woodcutter saying that it was the Divine Will for Him to re-appear in the world to resume His mission. This Yogi, in his new role came to be known as Swami Samarth.

In other accounts, Shri Narasimha Swami was stated to reatreat 'in the Kardali Wilderness', whereas Swami Samartha purportedly has stated that he 'came from the Kardali Wilderness', after which he roamed about in China, Tibet, Nepal and Northern Inida, before settling down in Akkalkot.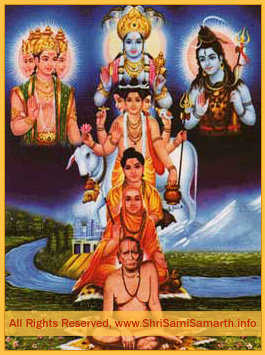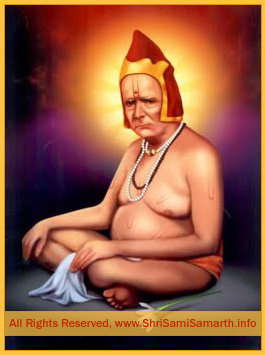 Prior to his settlement at Akkalkot, Swami Samarth seems to have visited far and wide. While moving in the Himalayan region he visited places like Puri, Benaras, Hardwar, Girnar, Kathiawad and Rameswaram in the South. He also stayed at Mangalvedha, a town near Pandharpur in Solapur district Maharashtra, which had been inhabited earlier by famous saints like Domojipant and Chokhamela. He came to Akkalkot in 1856 where he continued his physical existence for 22 years.

He came to Akkalkot on the invitation of one Chintopant Tol and stayed at a place on the outskirts of the town.